Better2Know's private sexual health clinics are situated across the Middle East. This includes the UAE, Saudi Arabia, Qatar, Bahrain, Oman and Kuwait. Our services provide discreet testing for a wide range of sexually transmitted infections. Here, we explain everything you need to know about testing for STIs with Better2Know.
Your patient journey begins when you contact Better2Know's experienced Patient Services team, either by calling the number above or using our online booking system. Better2Know's sexual health advisors are highly trained to provide expert support and guidance throughout your patient journey.
If you are unsure as to which STI testing option to choose, your advisor can suggest screens or tests that will meet your personal requirements. They can also answer any questions you may have. Our advisors will always maintain the utmost discretion with regards to your test and results.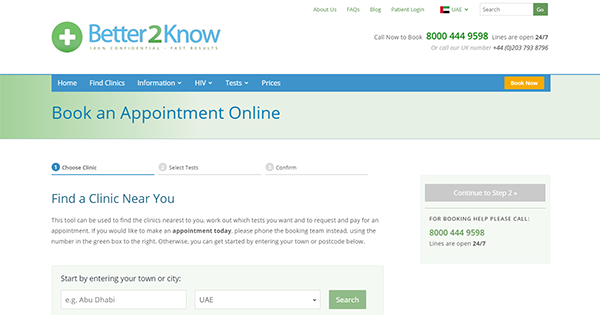 Your appointment and test results
Upon arrival at your private appointment, your STD test will be explained by one of our qualified clinicians before your samples are taken. Better2Know's central and fully certified laboratory will perform the analysis. Your results will be available no later than five working days from receipt of your samples at the lab. This will vary depending on which screen or test you select.
Once all your results are ready to report, a member of our sexual health advisory team will contact you, unless specified otherwise. Better2Know's online Patient Area is a secure way for us to report your results as soon as they are available. You can access this secure area at any time using the log-in details we email to you.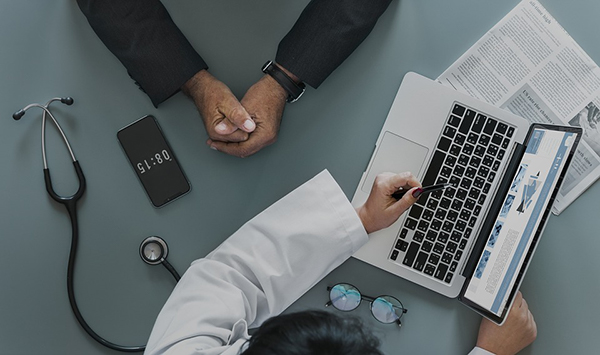 Dealing with a positive STI result
For those who do test positive for an STI infection, Better2Know's dedicated Patient Services staff will arrange a private doctor's consultation so you can discuss your results in more detail. Your doctor will prescribe the medication you require, if necessary. Reactive blood tests will undergo confirmatory testing free of charge. If you do test positive for a blood-borne infection, we will refer you to a specialist who can provide further advice and treatment options.
The sexual health legislation in the Middle East can be complex and Better2Know's STI testing services adhere strictly to this. As a result, you may be required to provide identification at your private appointment. If you have any doubts regarding your sexual health, you should get tested as soon as possible to prevent future health issues from arising.
How to book your STI test with Better2Know
To arrange your STI test or screen in the Middle East today, simply click the orange Book Now button displayed above. You can find your nearest sexual health clinic here. Alternatively, you can call our sexual health advisors using the number at the top of the page. They are available 24 hours a day, 7 days a week for your convenience.